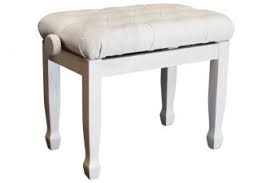 INFINITY ADJUSTABLE Polished White IG - 24" Premium Bench with Extra padded Top
$370.00
Ultra smooth vinyl top
13 tufted button top
Painted wooden knobs
Single artist adjustable
G spade legs
Beautiful piano bench model "INFINITY 1G PW", made by Benchworld. 24" Long, 14" Wide.
Finished in a gorgeous polished white color. All sides and legs are solid wood (birch) imported from Europe.
Item arrives in the box and you need to assemble the legs only.
A wrench will be provided inside the box.
Dimensions:
23-1/2" L x 15" W x 18-21" H